British Championships 24th-27th March 2022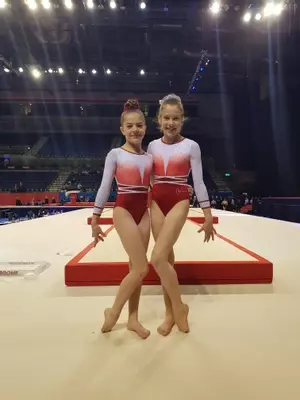 Isla and Bella competed in the Espoir (12-13yr) age group at Brooke and Tabitha competed in the Junior (14-15 yr) age group. This was a fantastic opportunity for these girls to perform on a big stage at the M&S arena in Liverpool with some notable great quality gymnastics from these girls which resulted in lots of praise from many judges and coaches alike. Isla placed a fabulous 12th on Vault and 11th on Floor and a fantastic 23rd all around against gymnasts who were mostly a year older than her. Arabella placed a credible 14th on Bars, but the highlight was a 3rd place British Championships bronze medal on Vault!
Brooke placed 11th on Bars, just missing out on qualification for the bars final even with a fall, and a very credible 13th place on Floor. Tabitha had a few costly mistakes which kept her score lower than she hoped, but some beautiful gymnastics with some quality release and catch skills performed on bars.
comments powered by

Disqus