Amber Valley Invitational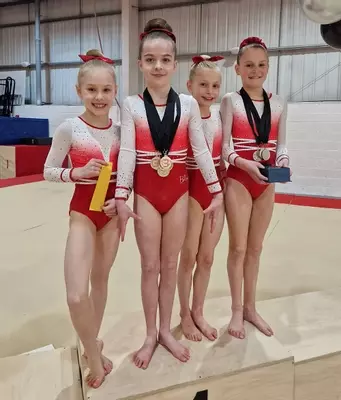 Amber Valley Grades Invitational:
Well done to the gymnasts who competed in the Valley Ninja Cup in Nottingham.
Day 1 saw the Compulsory grades gymnasts compete.
In the Compulsory 4 section Lucia and Isabelle both successfully put out new skills on bars, beam and floor. Some mistakes kept their overall scores down, but Lucia placed 8th and Isabelle 6th on vault.
Lucy achieved some good scores at compulsory 3 (11 years old). She managed to achieve a bronze medal on beam, floor and range and conditioning, silver on vault and a gold on bars with 3rd overall.
Bella had a wonderful competition at compulsory 3 (10 years old) collecting a silver medal on vault as well as a gold on bars, beam and floor. Bella was also crowned the AV Ninja compulsory 3 champion.
Day 2 saw the National grades gymnasts compete.
Lucy competed at National Grade 2 (13+ years) where she placed 4th on vault, 5th on bars, 2nd on beam, 1st on floor, 5th on vault and 4th overall.
Bella competed at National Grade 3 (12+ years) where she placed 2nd on bars, 1st on beam, 3rd on floor and 2nd overall.
Grace competed at National Grade 4 (11+ years) and placed 6th on vault and 4th on range and conditioning.
Amilya competed at National Grade 5 (11 years) where she placed 1st on all apparatus as well as overall champion.
This was a good practice competition for these girls for their upcoming regional grades. Good work girls!!!
comments powered by

Disqus