National Compulsory 2 2021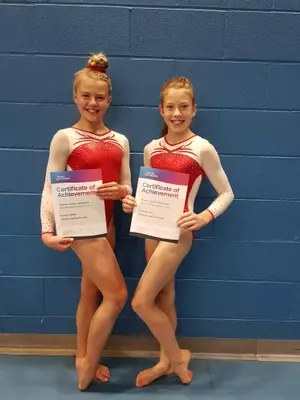 National Compulsory 2 – Stoke on Trent
Last weekend saw 3 of the Women's Artistic gymnasts travel to Stoke on Trent to compete in the National Compulsory 2 competition. This competition is the qualifier to be able to compete at the British Championships but requires the gymnasts to perform set skills in their routines and score an overall total of 54.50.
Saturday was the turn of Georgia and Arabella with Isla competing on the Sunday. All 3 girls competed magnificently and without any major errors leading them to achieve the pass score with ease. This means that all 3 gymnasts have now qualified and earnt the right to compete at the British Championships.
168 gymnasts initially entered this competition with 144 competing on the day and 66 achieving the pass score. The age for this competition was from 11 years old upwards with our gymnasts aged 11 and 12 therefore being some of the youngest competing.
Georgia placed a fantastic 18th overall and 10th on floor and 15th on range and conditioning. Arabella placed a fabulous 13th overall and a tremendous 5th on vault. Georgia finished a magnificent 13th in the country within the 12 year category and within the same age group Arabella placed 10th overall.
Isla finished the competition in 26th place overall and a fabulous 11th place on beam. Only 12 gymnasts of Islas 11 year age group achieved the pass score and of these Isla was 6th in the country for that age.
This was an amazing achievement from all 3 of these gymnasts after the challenges of the last 18 months. We are all so proud of the way they approached and handled this competition and the achievement of reaching the British Championships alongside Brooke and Tabitha later in the year.
comments powered by

Disqus