Rushmore Rosebowl International 2021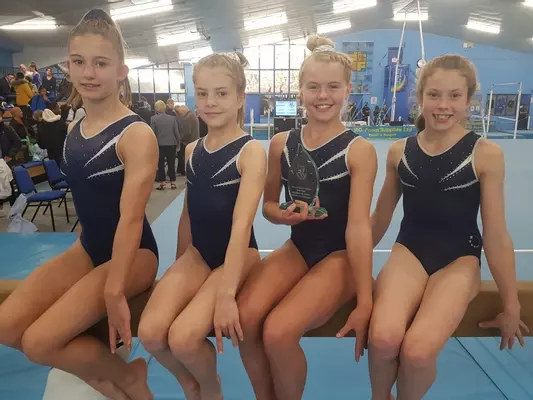 Rushmoor Rosebowl International 2021
This competition is in its 40th year and has international gymnasts entered along with GB and Home Nations representatives. Horsham gymnasts were involved at this competition representing 2 different teams, South East Region and Sussex County. A total of 12 teams entered with 58 individuals competing across an age range of 11 years to senior level (16+ years). Isla Stocker (Sussex) was one of the youngest competitors at just 11 years competed strongly to finish 45th overall and 19th on vault. Arabella Aston (Sussex) performed some simpler routines than usual to place 43rd overall and 23rd on bars. Izzy Carr (Sussex) had a clean competition to place 28th overall and 17th on vault. Brooke Stocker (South East) performed some high level skills which were all quite new to competition routines still. She managed to place 26th overall, 13th on floor and a fabulous 6th on beam. Georgia Stables (Sussex) competed all new skills/routines at this competition. She had a clean competition, successfully finishing 10th overall, 14th on bars and 9th on beam. Tabitha Lees (South East) had an extremely successful competition with some new skills carried out really well. She placed 7th overall with 11th on floor, 8th on beam and 4th on bars.
The South East took the team title with Sussex placing 4th in the composite category (county/region) and out of all the teams combined South East were 3rd and Sussex 6th.
The competition also held an under 13 section where Isla placed 11th overall, 3rd on vault and 8th on both beam and floor. Bella placed 9th overall, 10th on floor and 6th on bars. Georgia placed a magnificent 1st overall along with 5th on vault, 2nd on bars, 1st on beam and 6th on floor.
Well done girls this was a magnificent performance from all of you. Now on to the British Championships on the 27th/28th November in Guildford.
comments powered by

Disqus