Acrobatic British Tournament 2017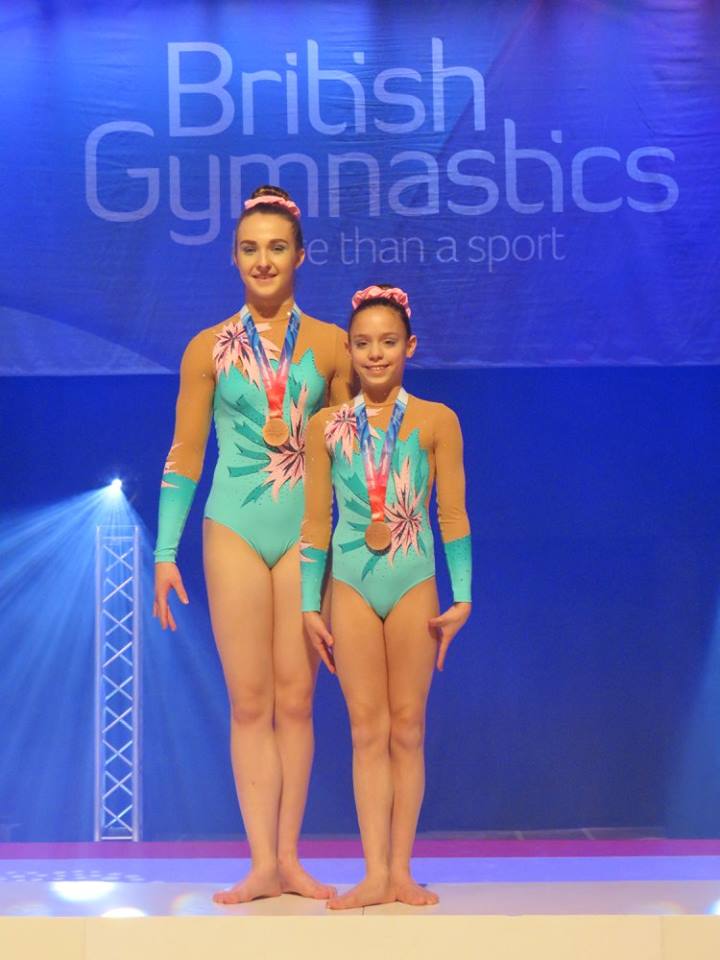 Horsham Gymnastics Centre's Sports Acrobatic squad had fifteen gymnasts competing at the prestigious British Tournament with all finishing highly placed, especially the Women's Pair of Aimee and Maddie, who earned a superb bronze medal.
The competition - held at Stoke-on-Trent's Fenton Manor Sports Centre - attracted over 200 of the very best acrobatic gymnasts in the UK from 24 of the top clubs, with Horsham having one of the largest squads at the competition.
After competing in the 13-19 years Women's Pairs on Saturday afternoon, and then again on Sunday morning, Aimee and Maddie were placed third in Sunday afternoon's final to earn them the bronze medal. This was a tremendous achievement by the pair on such a big stage, with a large crowd in attendance, and up against very highly ranked competition. Horsham Gymnastics Centre is one of the top clubs in the country and its reputation was further enhanced with sixth-placed finishes from both Ben and Natalie in the 12-18 years Mixed Pairs competition and Zoe and Zoe in the 12-18 years Women's Pairs.
Just outside a top-six finish were Ella , Myla and Alexis who finished seventh in the 12-18 Women's Group. Francesca , Matilda and Pheobecame tenth in the 11-16 Women's Group and Georgia , Ella and Lily, who were also competing in the 11-16 Women's Group, finished eleventh.