1st Gyor Open International Competition- Hungary 2019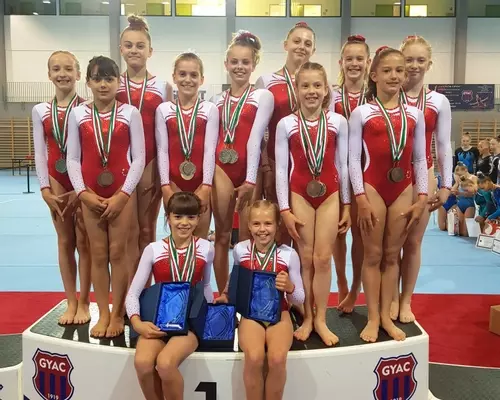 Success in Hungary for Horsham Gymnasts
12 gymnasts from Horsham Gymnastics Centre travelled to Hungary to compete at the 1st Gyor Open International Competition. The girls spent 5 days at the National Sports Centre where they trained and competed. This centre hosted the European Youth Olympics in 2017 and is preparing to host the 1st Junior World Gymnastics Championships later this month.
The competition was split into 4 age categories and the girls competed against clubs from Romania, Austria, Iceland, Dubai, Hungary and the Czech Republic.
In the 2009/2010 category Georgia placed 1st overall with team mate Arabella placing 2nd. Georgia also went on to collect a silver medal on bars and a gold medal on both beam and floor. Arabella also won a gold on vault, silver on floor and a bronze on bars.
In the 2007/2008 category it was a clean sweep overall with Brooke placing 1st, Tabitha and Lola equal 2nd and Elisha and Morgan equal 4th. The apparatus medals were also shared out amongst the Horsham gymnasts. On vault Tabitha placed 2nd and Morgan 3rd. On the bars Brooke placed 1st, Tabitha 2nd and Lola 3rd. The beam title was shared between Brooke and Lola with Elisha 3rd. Floor was also a clean sweep with Brooke 1st, Morgan 2nd and Lola 3rd.
The 2005/2006 - FIG category followed, with Cissy finishing 3rd, Phoebe 5th and Isabel 6th overall. Cissy also collected a silver medal on bars, beam and floor. Isabel also collected a bronze medal on beam.
The final round of the day was the 2003/2004 - FIG category where Honesty placed 3rd and Scarlett 4th overall. Honesty also took the vault title as well as a bronze on bars. Scarlett also collected a bronze on both the beam and floor.
Of the 12 gymnasts who competed at the Gyor Open International a total of 37 medals were won overall and on individual apparatus. This included a total of ten gold, eleven silver, eleven bronze, three 4th place, one 5th place and one 6th place medals.
There were two overall champions crowned through Georgia and Brooke, with Georgia also taking home the trophy for the highest score of the entire competition, a huge 14.6 on beam.
This was a massively successful trip for all these girls, aged just 9-15 years old, who not only won medals but have also had a fabulous experience to travel with their gymnastics. We are all extremely proud of how they approached this trip and the fantastic results achieved at this competition.
comments powered by

Disqus