South East Regionals 2019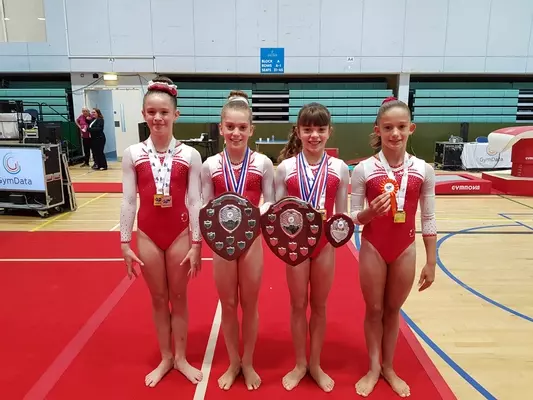 South East Regionals 2019 – Guildford Spectrum, 7th/8thSeptember
The weekend started on the Saturday afternoon with the Level 3 gymnasts. The Level 3 team managed to place 3rd with Arabella 8th and Georgia 6th individually at level 3 in age. Elisha finished 5th at level 3 (08) and Morgan also 5th at level 3 (07+). Georgia also picked up a bronze medal on bars for the 3rd highest score across all age groups.
The following day saw our youngest gymnasts compete at Level 4. Individually Nureeza placed 12th, Zara 11th, Isla 4th and Lucy 2nd at the In-Age category. Isla and Lucy are both off to the National Finals in November to represent the South East against the best gymnasts in the country for this age group. At Level 4 (09) Poppy placed a fabulous 1st overall. As well as these all-around medals Lucy also placed 2nd on floor, Isla placed 1st on bars and 2nd on beam and Poppy was 1st on vault and 3rd on beam and floor. Horsham were also crowned the Level 4 team CHAMPIONS.
The Level 2 competition quickly followed with Izzy placing 4th overall and Lola 3rd in the 07+ age category. At Level 2 In Age Tabitha finished 2nd overall as well as 3rd on bars, 1st on beam and 2nd on floor. Brooke was crowned Level 2 champion as well as collecting 3rd on vault, 1st on bars, 2nd on beam and 1st on floor. Horsham were also crowned the Level 2 team CHAMPIONS.
The final round had the F.I.G competitors. In the FIG Espoir Challenge section Phoebe placed 5th overall.
Scarlett competed really well in the FIG Senior Challenge being crowned Senior Challenge champion as well as collecting 1st on beam.
This was a hugely successful competition with the gymnasts returning with the following:
1 x 6th place
3 x 5th places
2 x 4th places
7 bronze medals (1 team)
1 silver medal
9 gold medals (including 3 overall champions)
2 team titles
2 gymnasts in the South East team for National Finals.
From these results we are also pleased to announce that Scarlett has been selected as reserve for the South East team at both the Bill McLoughlin team competition and the Rushmoor Rosebowl International.
Well done gymnasts and coaches. A long but very successful weekend!!!
comments powered by

Disqus