English Silver and Gold Championships 2019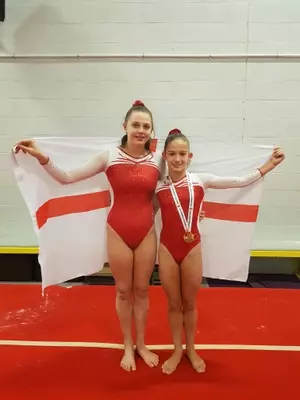 English Silver and Gold Championships 2019
6 Women's Artistic gymnasts travelled to Leicester to compete at the English Silver and Gold level Championships.
In the Silver intermediates category, there were 42 competitors.
Phoebe had 2 good pieces but a couple of errors in a very close scoring competition saw her place 34th overall. Morgan competed well on vault, landing her tuck Tsukahara and placing 10th on this piece. Again a few errors kept her in 27th place overall. Cissy competed well and ended the competition in 5th place overall. Cissy also managed to place 5th on vault and 4th on floor. Lola had a clean and very good competition placing a magnificent 2nd overall. Lola also placed 5th on bars and 6th on beam. Lola also became the English Silver level Vault Champion!!!
In the Silver senior's category, there were 19 competitors. Izzy placed 8th overall and also became the English Silver level Beam Champion!!!
Scarlett competed in the Gold (open age) category. She managed to place 10th on vault and bars as well as 9th on beam.
Well done girls
comments powered by

Disqus