Artistic National Voluntary Finals 2019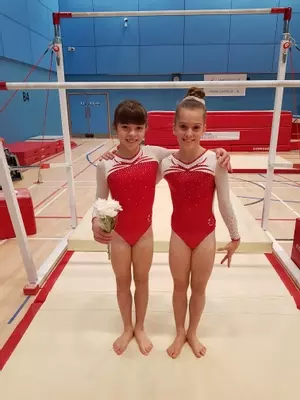 National Voluntary Finals 2019
Well done to Tabitha and Brooke who competed at voluntary level 2 National Finals. Tabby's day didn't go totally as planned but she managed 3 strong pieces, including being the top scorer on bars in the country for her age. This effectively makes Tabby the British Champion on bars for this age group of gymnasts. She was also 11th on floor.
Brooke competed well placing 8th on vault, 9th on bars, 11th on beam and 7th on floor. She finished the competition today placing 6th in the country.
From the 2 National finals this year Tabby is ranked 26th and Brooke 7th in Great Britain.
The following day saw Lucy and Isla compete at Level 4. Lucy was competing at her first national final and a steady comp saw her place 32nd overall and 16th on beam out of the top 49 gymnasts in the country.
Isla had a costly mistake on floor, dropping her down the overall positions, but finished 15th on beam. She also gained a combined GB ranking of 22nd.
Well done girls, lots of experience gained and some fabulous results.
comments powered by

Disqus