National Compulsory Finals 2018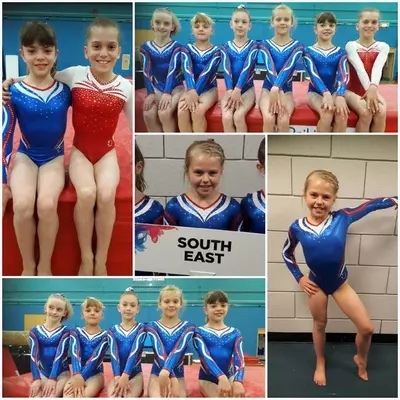 National Compulsory Grades Finals - Stoke on Trent - May 12th
On May 12th 3 girls from Horsham competed at Fenton Manor, Stoke on Trent at the National Compulsory Grades Finals. The girls had to qualify to be eligible to compete at this competition as part of the South East team or as an individual back in April at the South East Regional Grades. National Grades finals is therefore a competition for the best gymnasts in the country to compete against each other with set skills to be performed.
Georgia competing at her first National Finals representing the South East team at Compulsory Grade 4 (9 years). Georgia had a magnificent second vault score of 13.55 out of 14.00. However, a few mistakes around the competition led Georgia to place 47th overall out of the top 60 gymnasts from around the country. This was invaluable experience for Georgia in her gymnastics journey.
Later in the day the top 40 gymnasts in the country competed at Compulsory Grade 3 (10 years) and saw Brooke and Tabitha competing in their 3rd National Finals event. Brooke was reserve for the South East team which placed a fabulous 4th. Brooke had a clean competition but just missed a couple of connections and finished 24th overall. She also came away with a 3rd place finish on Range and Conditioning, scoring 12.10.
Tabitha also competed as an individual at Compulsory 3 and again had a clean competition. Tabitha had a great round and came away with a 7th place finish on Beam, 8th on Bars and Range and Conditioning as well as a magnificent 10th place overall.
Well done girls we are all really proud of you and the work you have done over the last 6 months to get these results.
comments powered by

Disqus