Women's Artistic Sussex Championships 2018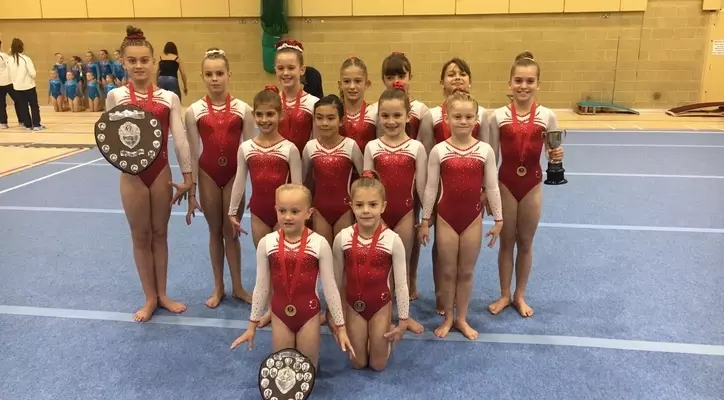 Women's Artistic Sussex Championships 2018
The first round for our women's levels gymnasts saw Poppy finish 4th overall, Georgia 3rd overall and Arabella 2nd overall at level 4 in age. Morgan became level 4 out of age Sussex champion. Scarlett placed 2nd overall at FIG Challenge Junior with Honesty being made champion. Honesty also picked up the highest FIG score on vault and floor and the supreme champion trophy.
Level 5 in age saw Nureeza finish 9th, Autumn 7th, Naomi 6th, Zara 4th, Isla 2nd and Lucy crowned Sussex champion. Level 3 in age Elisha finished 3rd, Brooke 2nd and Tabitha 1st. Level 3 out of age Izzy took 1st place for her age group. The second age category saw Cissy place 3rd, Lola 2nd and Phoebe crowned Sussex champion.
The Horsham women's gymnasts have achieved a magnificent 38 medals over 2 weekends of competitions (Regionals and Sussex championships) as well as 3 regional champions, 2 regional team champions and 8 Sussex champions. On top of this, 4 gymnasts will represent the south east region at National Finals. Honesty will represent the south east region at the Rushmoor Rosebowl International and Bill McLoughlin national team championships, with Phoebe and Cissy being selected to represent Sussex at the Rushmoor Rosebowl International. Scarlett is also the reserve for this competition.
Following these competitions, we are pleased to announce that Honesty, Phoebe, Cissy, Isabel, Lola, Tabitha, Brooke, Elisha, Morgan, Arabella, Georgia, Poppy and Isla have all been selected in to the south east regional squad for 2019, with Scarlett as a FIG reserve. Lucy, Naomi, Zara, Autumn and Nureeza have all been selected into the Sussex county squad.
Congratulations to everybody. This is a fabulous achievement!!!
comments powered by

Disqus