English Championships 2018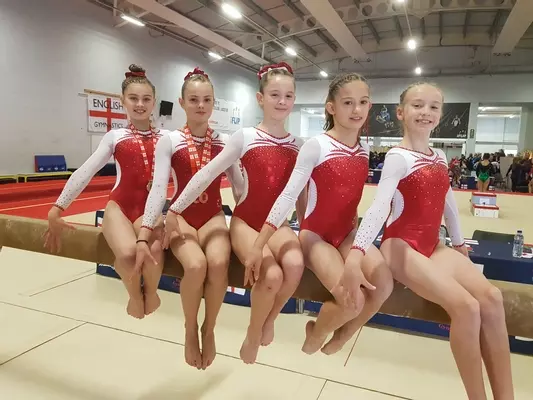 English Bronze/Silver/Gold Championships 2018
In the silver 10-11 years category Morgan competed steadily and finished a very creditable 8th on beam and 10th on floor. Lola had a few areas that didn't go as well as we hoped but managed to place 13th on beam with a fall and 16th on floor with a slight injury from the beam fall. This was a large category with Lola finishing 19th and Morgan 16th overall out of 40 gymnasts.
In the silver 12-13 years category Phoebe was crowned English bar champion with Cissy 3rd. Cissy was also 3rd on beam with Izzy 4th. Overall Cissy finishes 4th, Phoebe 5th and Izzy 11th. This again was a large category with 40 gymnasts. The girls also got to meet and have medals presented by Kelly Simm (GB gymnast, commonwealth and world medallist and Olympian)
In the gold 11+ years category Honesty finished with 3rd place on vault, bars and beam as well as 3rd overall. These were very good results on a very close category (only 0.3 splitting 1st and 3rd overall) with no upper age limit.
Well done to the girls for finishing the competition season on a very positive performance.
comments powered by

Disqus