National Development Grades Finals 2018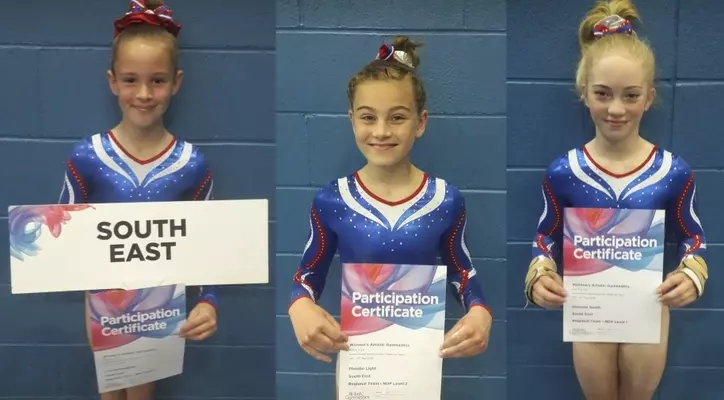 Three Women's Artistic gymnasts represented the South East region at National Grades Finals in Stoke on Trent.
Lola finished 12th overall out of 50 gymnasts, just 0.4 away from 6th place. She also placed 2nd on range and conditioning (.05 from 1st), 2nd on floor (.10 from 1st) and 8th on bars (.25 from 1st). Fabulous job Lola!
Phoebe managed to compete on all apparatus, despite hurting her foot earlier in the week. Unfortunately an extra swing and stop on bars kept her overall score lower than we hoped but she managed to contribute to the teams scores on other pieces. Well done Phoebe!
Honesty finished 26th overall at National Grade 1. A fabulous 4th on beam and a personal best 13.00 on range and conditioning (13.5 was the winning range score). She also competed her yurchenko vault for the first time today with a 12.7 score (13.15 winning vault score). Well done Honesty all grades finished now.
Over 2 separate weekends of grades finals, 6 girls represented the South East and Horsham GC extremely well. Along the way Lola placed 12th overall at National Grade 3 and Tabitha placed 10th at Compulsory Grade 3. Between them they also took 8 top 10 placings on apparatus. This is a great achievement at national level competitions, competing against the best gymnasts in the country at their respective grades. Well done girls we are all proud of you!
comments powered by

Disqus