Sussex Invitational 2018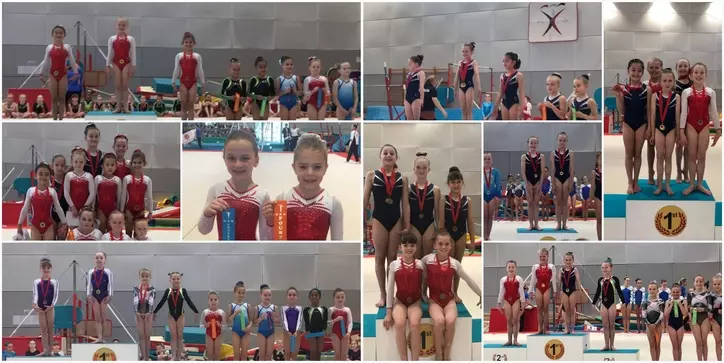 This competition was held at Horsham GC on the 3rdJune and we had 22 gymnasts competing for either Horsham or Sussex. This competition runs with 2 separate categories. There is an overall position for each level and age category and then there is a category for gymnasts who represent the Sussex County Squad.
All our gymnasts had an exceptional competition with many new moves being competed and with some gymnasts having only just altered routines from National Finals only weeks before, this was a great achievement. A total of 22 medals and a further 5 top 8 place ribbons were won at this competition.
At level 5 in age Zara finished 8thand Isla 4th,out of a large group of 24 gymnasts.
Level 6 out of age we had 6 gymnasts competing with Holly placing 10that her first women's 4 piece competition. Willow placed 9thoverall with Autumn 7th. The top 3 places were taken by Horsham gymnasts with Naomi 3rd, Nureeza 2ndand Lucy 1st.
Level 3 out of age (05/04) Isabel won both categories of competition by over 1 whole mark. Level 3 out of age (07/06) saw Cissy return to competition and place 4thoverall, Phoebe 3rdand Lola 1stby 1 whole mark also. Phoebe also picked up a silver medal for the Sussex representative category.
Level 4 out of age (08/07) had Morgan representing Sussex. Morgan won both categories of this competition.
Level 4 in age saw Lara take 3rdplace in the Sussex representative category. Arabella placed 2ndoverall with Georgia and Poppy sharing 1stplace. Poppy also won the Sussex representative category.
Level 3 in age Elisha placed 7thoverall and won the Sussex representative section. Brooke placed 3rdoverall with Tabitha Lees 2nd.
FIG Junior Challenge saw Scarlett place 3rdoverall and 2ndin the Sussex representative section with Honesty placing 1stin both categories.
This was the last competition of this season and was a great success with some very good results. Well done to everybody.
comments powered by

Disqus