NDP National Finals 2015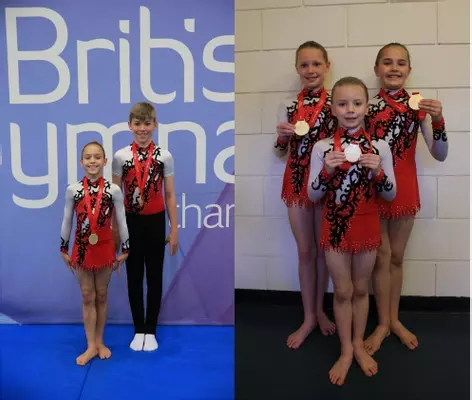 Fifteen acrobatic gymnasts from Horsham Gymnastics Centre travelled to Stoke on Trent on the 16th and 17th of May, to compete in the British Gymnastics NDP National Finals where they represented the South East Region.
As could be expected the competition was to a very high standard with over 350 gymnasts competing from all over Great Britain.
In what was a fantastic achievement for the club five of them have come away with gold medals and the very special accolade of National champions. In addition, in what was a tremendous achievement for the club, its coaches and gymnasts, all the remaining Horsham gymnasts finished in the top six.
The new National NDP Champions are Ben Ratcliffe and Madeline Kent who won gold in the Grade 5 Mixed Pairs and Ella Turtle, Grace Hanger and Darcy Luke who took the gold medal in the Grade 2 Groups.
The other competitors over the weekend were Aimee Tolhurst and Ella Louise-Nelson who finished an agonising fourth in the Grade 5 Women's Pairs, Grade 5 Women's Group, Myla Kettell, Matilda Tester and Phoebe Rochead who finished fifth, Grade 6 Women's Group Emily Steere, Zoe Schubert and Natalie O'Hara who were also placed 5th and to complete the tremendous series of results Dom Goddard and Zoe Gaudiano who came sixth in the Grade 3 Mixed Pairs competition.
To have fifteen gymnastics competing at the National Finals from one club is a huge achievement for Horsham Gymnastics Centre and to have them all finish so highly and to include overall champions shows the strength and commitment of the current Acro squad.
comments powered by

Disqus