National Compulsory Finals and National Club Grades Finals 2015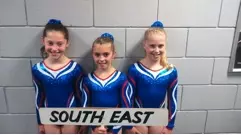 April saw the Compulsory Grades Finals held in Stoke. Amara McGeachie and Cissy Marlow competed for the South East team at Compulsory Grade 4, having qualified for the team in 1st and 2nd place respectively at the regional grades championships in March. For both girls it was their first time competing at a National event. Cissy placed 48th overall and helped the team to place 9th. Amara competed extremely well and finished a very impressive 12th overall with the 2nd highest score on vault and the 7th highest score on range and conditioning.
Izzy Lamb competed as part of the Compulsory Grade 3 team which went on to place 7th. Izzy performed well and finished the competition in 21st place with a 5th place on Bars and 6th place on Range and Conditioning.
In May it was the turn of the Club Grade finals to be held in Stoke also. Poppy Griggs, Millie Craven and Charley Bargman (reserve) were members of the Grade 4 team with Scarlett Tidy and Honesty South (reserve) members of the Grade 3 team. Poppy and Millie both performed clean competitions with Poppy placing 39th overall and Millie 34th overall with a 4th place on Bars. The team placed 9th. Scarlett performed a steady competition finishing 4th with the team and 18th overall individually.