Womens Artistic Regionals 2015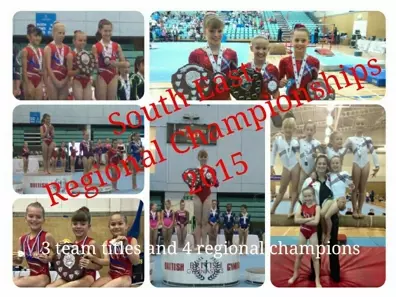 South East Regional Championships 19th/20th September 2015
Members of Horsham Gymnastics Centre Women's Artistic Squads competed at the South East Regional Championships at Guildford Spectrum at the weekend. The competition started on the Saturday with the Level 5 gymnasts. 2 gymnasts took part in the In Age section with Lola McNaughton placing 9th overall and Morgan Miller in her first competition placing 22nd. In the Out of Age category Isabel Carr placed 2nd overall, Elena Jones 7th, Lily Garrard 26th and Phoebe Light 30th. The Level 5 team of Lola, Izzy, Phoebe and Elena placed 2nd. The following round saw the Prep 6 gymnasts compete with Elisha Venturini taking the silver medal, Tabitha Lees the bronze medal and Brooke Stocker placing 5th. These 3 gymnasts also became the prep 6 team champions.
Sunday began with the Level 4 gymnasts. Poppy Griggs placed 7th in her Out of Age section with Charley Bargman placing 4th in hers with Millie Craven becoming the Level 4 Out of Age Champion. The Level 4 team of Poppy, Millie, Cissy Marlow and Amara McGeachie also became Level 4 Team Champions.
The following round was for the F.I.G. gymnasts. In the Espoir Challenge group Scarlett Tidy took 6th place with Evie Lamb winning the overall title. Isobel Hilliard was crowned champion for the F.I.G Junior category. These 3 gymnasts with their combined scores also took the overall F.I.G. Team Trophy.
Next to compete was the Level 3 gymnasts the team, consisting of Isabelle Lamb, Katie Ridley and Honesty South, placed a very close 2nd. Honesty was also crowned overall Level 3 Out of Age Champion. Finishing the weekends competition was Fran Clark who placed 5th in the Level 2 Out of Age section.
This was a great weekend of competition with 3 Team Titles and 2 team silvers being won as well as 4 Regional Champions being crowned along with 2 individual silvers and a bronze medal and 7 other top 10 placings.
The In Age gymnasts, Cissy Marlow, Amara McGeachie, Izzy Lamb and Katie Ridley, competed this weekend for team scores but will compete for their individual titles on October 18th at NDGA in Tunbridge Wells.