Summerfields Invitational Floor and Vault Competition 2015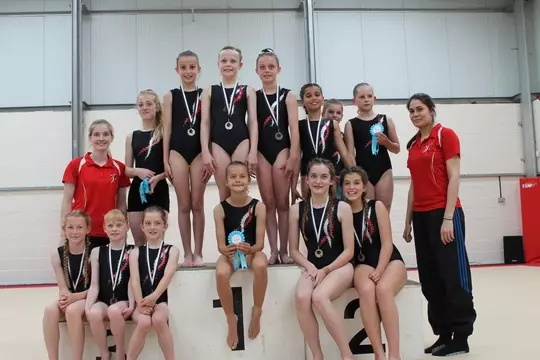 The 5 and 8 hour groups travelled to Hastings at the weekend to compete at the Summerfield's Invitational Floor and Vault competition. All 13 of the gymnasts that competed performed extremely well and each one placed in the top 6 of the respective age groups and levels.
Silver 11-12 yrs (cat 2) - Ellie Bachelor 2nd, Darcy Tidy 3rd.
Silver 12-14 yrs (cat 1) - Catrin Rathbone 1st, Amy Roberts 2nd.
Silver 13-14 yrs (cat 2) - Sophie Sheldon 4th.
Advanced 9-11 yrs (cat 1) - Katie Robertson 2nd, Sophie Ashton 3rd, Harriet Miller 6th.
Bronze 10-13 yrs (cat 1) - Frenki Marina 1st, Jasmine Murray 2nd, Holly Goodsir 3rd, Alice Coyle 4th.
Bronze 11-13 yrs (cat 2) - Sophie Hilliard 4th.
A fabulous set of results, well done everybody.