Sussex Championships 2015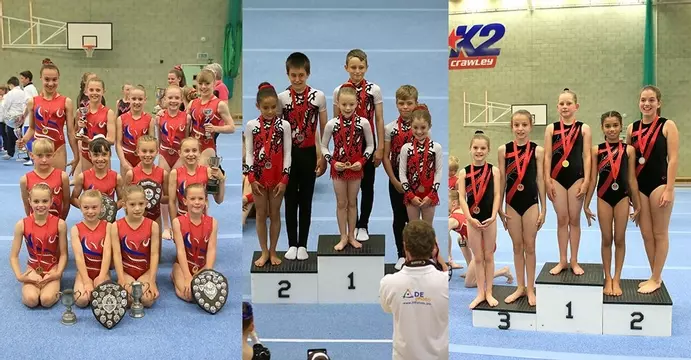 Women's Artistic
The Women's Artistic gymnasts had a fabulous day at the Sussex Championships last weekend, collecting 7 titles, 4 silver medals and 2 bronze medals. The day started with Poppy Griggs and Millie Craven finishing 2nd and 3rd overall for the Out of Age 4 level, whilst team mate Charley Bargman finished 6th overall. Honesty South performed well to place 3rd at Level 3 Out of Age in an extremely close competition with only 0.3 splitting the top 3 gymnasts. Lola McNaughton became Sussex Champion at Level 5 In Age, winning by 2 marks. Phoebe Light also took the Level 5 Out of Age title with team mates Elena Jones 5th, Izzy Carr 6th and Lily Garrard 10th at this level. The final round of the day saw Fran Clark become Sussex Champion at Level 2 Out of Age. Amara McGeachie took the Level 4 In Age title ahead of team mate Cissy Marlow. Katie Ridley won the Level 3 In Age section ahead of her team mate Izzy Lamb. Scarlett Tidy won the title for the Espoir Challenge section with Evie Lamb placing 2nd overall. The final presentation was to Izzy Hilliard who collected the FIG Junior title as well as the FIG Supreme Champion and the Bars and Beam apparatus titles.
This was the last in a busy period of competitions for these girls, a massive well done to all who have taken part in all of these. A total of 17 1st places, 17 2nd places and 13 3rd places were achieved from these competitions with numerous top 10 placings to add to this.
Floor and Vault
The 5 and 8 hour gymnasts competed at the Floor and Vault section of the Sussex Championships last weekend at K2. In the Bronze Category 1 Women 10-11 section Alice Coyle became Sussex Champion taking the gold ahead of team mate Jasmine Murray in 2nd. The Bronze Category 1 Women 12-14 section was extremely close with 0.15 splitting the top 3 gymnasts. Holly Goodsir took the silver medal just 0.1 ahead of Frenki Morina in third. Sophie Hilliard took the bronze medal in the Bronze Category 2 Women 10-11 section just 0.15 from gold. The Silver Category 1 Women 12-14 section could not be split and therefore saw Catrin Rathbone and Amy Roberts both collecting the Gold medal and Sussex Champion title for this level. One of the biggest categories of the day was the Silver Category 2 Women 12-14 section with only 0.5 splitting the top 10 gymnasts. Darcey Tidy placed 10th with Ellie Bachelor 5th and Sophie Sheldon taking the gold and being crowned Sussex Champion. Sophie also had the highest floor score of the whole day and received the Warner trophy for achieving this.
Acrobatics
The 31 squad members that competed claimed an amazing 21 gold medals, 5 silver medals and 2 bronze medals as well as taking the Milano Supreme Champions Shield (Highest Score of the Day) after Dominic Goddard and Darcy Luke's superb performance.
Sussex Champions (Gold Medals)
Olivia Barry, Summer Smith, Naima Hyder - Grade 2 Women's Group
Dominic Goddard, Darcy Luke - Grade 3 Mixed Pair
Dominic Smith, Jackson Laing - Grade 4 Men's Pair
Myla Kettel, Zoe Gaudiano - Grade 5 Women's Pair
Manami Imada, Ella Dronfield, Alex Rogers - Grade 5 Women's Group
Aimee Tolhurst, Ella Louise Nelson - Grade 6 Women's Pair
Grace Ellis, Sophie Hogton - FIG 11- 16 Women's Pair
Benjamin Ratcliffe, Madeline Kent - FIG 11- 16 Mixed Pair
Emily Steere, Zoe Schubert, Natalie O'Hara FIG Junior Women's Group
Silver Medals:
Dominic Smith, Alexis O'Hara - Grade 3 Mixed Pair
Grace Hanger, Anabelle Wright, Nina Butler-Laplace - Grade 3 Women's Group
Bronze Medals:
Devon Thomas, Nina Butler Laplace - Grade 3 Mixed Pair
Caitlin Simpson and Lilly Knight come in 4th place in the Grade 4 Women's Pair and Isabella Powell, Ella Turtle and Amelia Edson finished in 5th Place in the Grade 4 Women's Group.
Click here to see all the results and scores.