Acrobatic Regional Championships 2015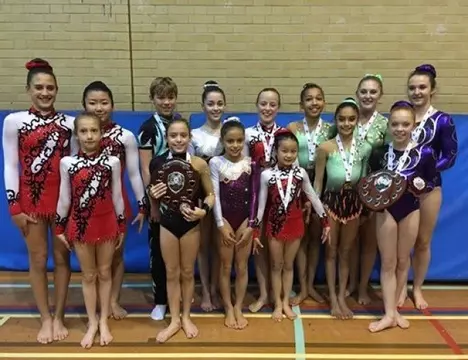 Horsham's Acrobatic Squad of 37 gymnasts competed over the weekend from the 21st -22nd November 2015 in the South East Regional Competition.
The team was very successful, gaining a total of 7 gold's, 7 silvers and 6 bronzes. Horsham gained another 3 regional champions, receiving 3 shields for the club.
This is a breakdown of the results they achieved:
Olivia, Summer and Naima (Grade 2 WG) – 2nd
Jackson and Lily (Grade 2 MXP) – 3rd
Indie and Sophie (Grade 2 WP) – 4th
Devon and Kitty (Grade 3 MXP) – 2nd
Macy and Olivia (Grade 3 WP) – 3rd
Grace, Annabelle and Nina (Grade 3 WG) – 4th
Dom. G and Darcy (Grade 4 MXP) – 4th
Dom. S and Phoebe (Grade 4 MXP) – 2nd
Caitlin and Lily (Grade 4 WP) – 11th
Isabella, Ella and Amelia (Grade 4 WG) – 7th
Matilda and Alexis (Grade 5 WP) – 4th
Aimee and Ella (Grade 6 WP) – 1st
Ella, Manami and Alex (11-16 WG) – 4th
Myla and Zoe (11-16 WP) – 3rd
Ben and Maddie (11-16 MXP) – 1st
Emily, Zoe and Natalie (Junior WG) – 1st