South East Regional Grades 2016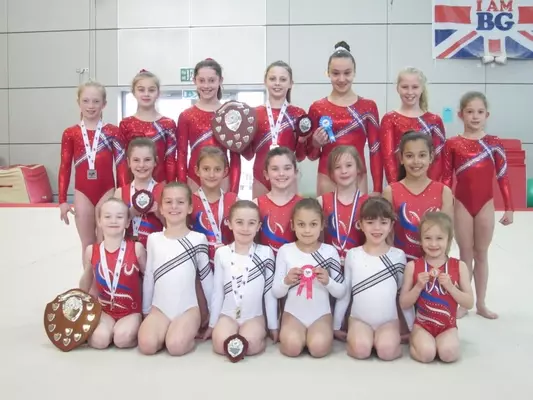 This year the South East Regional Grades were split over 2 weekends. The first weekend saw 5 gymnasts from Horsham Gymnastics Centre compete at NDGA in the Club Grade 6 and 5 competition
The first round involved the Grade 5 in and out of age competitors. Lily Garrard competed extremely well, taking the gold medal in the out of age section. Morgan Millar, competing in the in age category, also performed a steady competition and collected the gold medal. Lily received the top score on range and conditioning for her age category and Morgan top scored on bars, beam, floor and range and conditioning for her age category.
The following round involved Polly Stott who competed at grade 6 out of age. She had a great competition and achieved the bronze medal overall with the second highest score on beam. In the grade 6 in age section Horsham was represented by Evie Harris-Duff and Jessica Harmer. Evie finished a creditable 17th overall and Jess a fantastic 4th overall. Jess also top scored on the bars and beam with Evie achieving the second highest score on beam. This was a fabulous achievement as there were 57 competitors in this category.
The second weekend of competition began with the National 4 and 2 grades. In the National 4 section Izzy Carr and Phoebe Light finished a creditable 10th and 15th overall and passed their grades with commendations. The National 2 category saw 3 gymnasts compete with Scarlett Tidy being crowned the regional grades champion, Honesty South placing 2nd and Fran Clark 6th. Scarlett and Honesty will both now compete for the South East region at National Finals in Stoke in May.
National 3 had Poppy Griggs and Millie Craven compete where the girls finished 6th and 7th respectively and passed their grades with commendations. The final round of the day saw 3 of our gymnasts competing in their first grading. Elisha Venturini placed 4th overall, Brooke Stocker 8th and Tabitha Lees 12th at Compulsory 5 grade. All 3 of these gymnasts hit the pass mark for their grade with ease and gained valuable competition experience. Lola McNaughton also competed in this round at National 5 grade placing 1st overall and being named the South East National 5 grade champion.
The following day 2 gymnasts competed in the Regional 4 competition. Jaia Sahota-Lyons competed in the 05 year of birth section and placed a well deserved 9th overall. Sophie Hilliard competed at the same grade but in the 04 year of birth section and came away as the regional grade 4 champion, winning by over 2 marks.
This was an extremely successful 2 weekends of competition for Horsham's Women's Artistic squad who came away with 5 regional grades champions, 1 silver, 2 bronze, 1 x 4th and 2 x 6th places. All of the 18 gymnasts who competed passed their grade with either a commendation or distinction.
comments powered by

Disqus