Sussex Championships 2016 Acro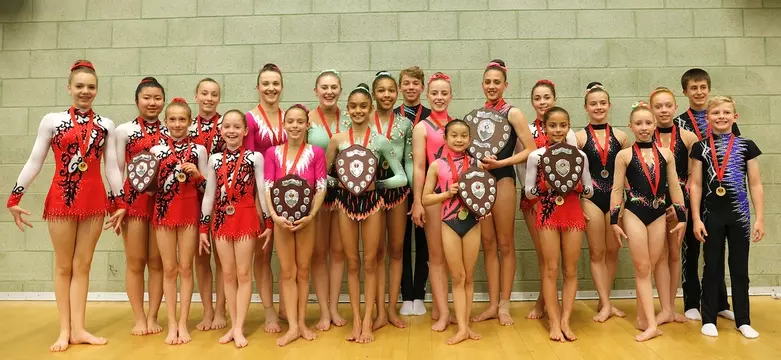 Horsham Gymnastics Centre's Sports Acro squad demonstrated their strength at the K2 Crawley last weekend in the 2016 Sussex Championships.
The Horsham Acro gymnasts totally dominated the competition winning 32 gold medals and 5 silver medals; the silver medals being earned where the Horsham competitors finished runners up to their own team mates.
The powerful set of results will further boost the Horsham squad ahead of this week's flight to Italy where a number of them will compete in the Turin Acro Cup and then for the British Championships held at the Echo Arena Liverpool at the end of the month. The Gold Medallists - and therefore Sussex Champions - for Horsham were:

FIG Junior Women's Group – Emily Steere, Zoe Schubert & Natalie O'Hara.
FIG Junior Women's Pair – Aimee Tolhurst & Madeline Kent.
FIG 11 – 16 Women's Group – Myla Kettell, Ella Dronfield & Zoe Gaudiano.
FIG 11 – 16 Mixed Pair – Benjamin Ratciffe & Zoe Gaudiano.
Grade 6 Women's Group – Manami Imada, Caitlin Simpson & Alex Rogers.
Grade 5 Women's Pairs – Matilda Tester & Alexis O'Hara.
Grade 5 Men's Pair – Dominic Smith & Jackson Laing.
Grade 4 Mixed Pair – Dominic Goddard & Darcy Luke.
Grade 4 Women's Group – Ella Turtle, Grace Hanger & Kitty O'Pray.
Grade 3 Women's Group - Annabelle Wright, Lilly Knight & Darcy Luke.
Grade 3 Mixed Pair – Devon Thomas & Lily O'Keefe.
Grade 2 Women's Group – Olivia Barry, Nina Butler Laplace & Naima Hyder.
Grade 2 Women's Pair – India Fielden & Sophie Porter.
The five silver medals as runners up to those named above were: FIG 11 – 16 Women's Group – Georgia Brock, Ella Nelson & Phoebe Rochead (Italy) and Grade 5 Women's Pair – Macy Lawes & Amelia Edson.

Head Acro gymnastics coach at Horsham, Ali Harmer, said, "All our gymnasts have put in many hours of work perfecting their routines and their dedication showed in our performance at the Sussex Championships. We now go into the unknown in Italy where we will compete against many international clubs in what will be another step in the squads learning curve".

Emily Steere, Zoe Schubert, Natalie O'Hara, Aimee Tolhurst, Madeline Kent, Benjamin Ratciffe, Zoe Gaudiano, Georgia Brock, Ella Nelson and Phoebe Rochead flew out to Turin on Wednesday with their HGC coaches for four days of competition against clubs from Switzerland, Hungary, Italy, Russia, Poland, Austria, South Africa, Germany, and Uzbekistan