Sussex Invitational 2016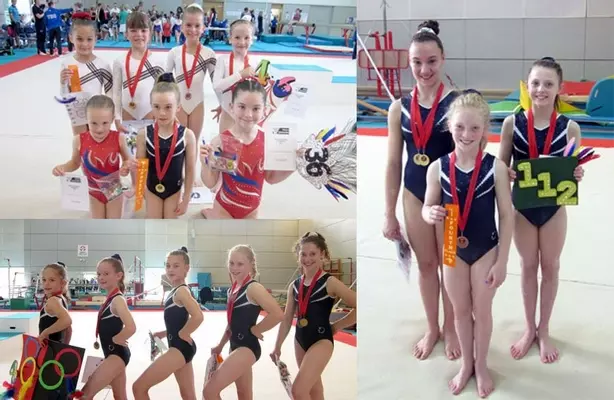 The Women's Artistic Squad competed in the Sussex Invitational last weekend. A total of 9 gold, 4 silver and 3 bronze medals were taken home as well as a further 8 top 10 positions. This competition saw the gymnasts compete for an overall placing within their age group as well as an overall placing as a member of the Sussex County Squad. The Level 5 Out of Age saw Lily Garrard place 4th in her age group as well as taking a gold medal as a member of the county squad. Morgan Millar competed exceptionally well winning her age category by over 2 whole marks. In the Level 5 In Age competition Horsham did extremely well with Jess Harmer placing 10th, Evie Harris-Duff 9th, Elisha Venturini 4th, Tabitha Lees 2nd and Brooke Stocker crowned the winner.
The next round of competition saw the competitors in the Out of Age Level 4 take part. Phoebe Light place 5th overall within her age band as well as Poppy Griggs 3rd and Izzy Carr 2nd for their age categories. The combined ages for this level for Sussex saw Phoebe take 8th, Poppy 4th and Izzy 3rd. In the Out of Age Level 3 section Millie Craven placed 1st within her age category as well as 2nd in the combined Sussex section by just 0.15. Lola McNaughton competed very well in her first Level 4 In Age competition taking the Gold medal for her age category by over a whole mark as well as taking gold in the Sussex category.
The final round of the day saw Francesca Clark compete in the Level 2 Out of Age competition picking up a gold medal for both her age category and the Sussex squad section. Honesty South competed in her first Espoir Challenge F.I.G level competition and gained valuable experience to place 4th in the combined section and 3rd in the Sussex squad section. Scarlett Tidy finished in overall 2nd place in this competition by just a margin of 0.1 and also claimed the gold medal for the Sussex squad section.
This was a very positive competition for all involved with every gymnast competing new skills in their routines.
comments powered by

Disqus