Turin Acrobatic Cup 2016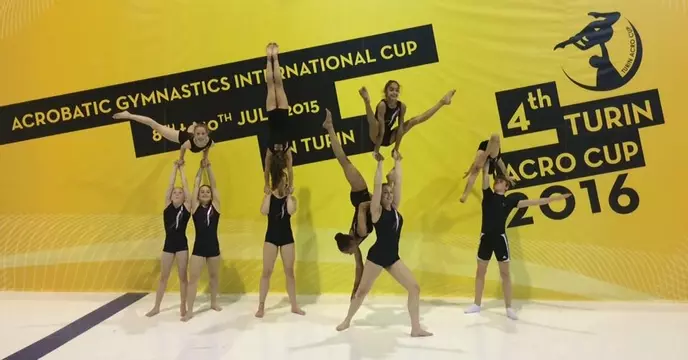 Horsham Gymnastics Centre's Sports Acro squad have returned from the prestigious Turin International Acro Gymnastics competition with all 10 gymnasts reaching the finals and with Aimee and Madeline taking Silver, missing out on Gold by a mere 0.1 of a mark, and Benjamin and Zoe G securing Gold by over three full marks. The huge competition - held over three days in hot humid conditions in the Italian city of Turin – had teams from Switzerland, Hungary, Italy, Russia, Poland, Austria, South Africa, Germany, and Uzbekistan as well as a number of British clubs taking part.
All of the Horsham gymnasts exceeded expectations with those not in the medals finishing well within the top ten ahead of many gymnasts who regularly represent their country at International level. As well as Horsham's medal winners Emily, Zoe S and Natalie finished in 5th and Georgia, Ella N and Phoebe in 7th - all achieved in competition with a large number of competitors.
Head Acrobatics Coach Ali Goss said, "I am thrilled with what we achieved and proud of them all. The whole trip was a fantastic adventure for them and I was impressed, but not surprised, by how determined and disciplined the whole squad were. My thanks go to fellow coach Ellie Stewart-Croker, all the parents who supported them, and of course the skill and effort of our gymnasts for making it all possible." In what has been a busy time for the squad attentions now turn to the British Championships on July 28 to 31 at the Echo Arena, Liverpool, where Horsham will be well represented.